Our top Japanese Maples
Japanese Maples are extremely versatile trees, suitable for almost every garden. They make stunning small feature trees, beautiful centerpieces in garden beds or containers or they can be used as bonsai specimens. Japanese Maples can add beautiful colours throughout all four seasons including Winter with the Coral Bark of the Senkaki Maple.
Japanese maples can be grown in full sun, provided they are protected from hot winds and are watered thoroughly in Winter & mulched to improve water retention.
Here is a list of our top Japanese Maples by feature:
Red foliage Japanese Maples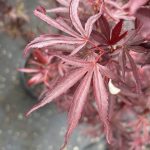 Acer palmatum – Shaina this stunning dwarf specimen displays bright red new growth maturing to a two-toned dark red and maroon and becoming bright red in autumn. A wonderful, compact tree for smaller areas or to be grown in a container
Height: 2m
Width: 2m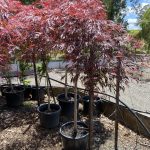 Acer palmatum dissectum atropurpureum (Red Weeping Maple) – a weeping form of the atropurpureum maple. An excellent feature tree, ideal for small gardens or containers which looks particularly striking when planted with other maples
Height: 2-2.5m
Width: 2-2.5m
Dwarf Japanese Maples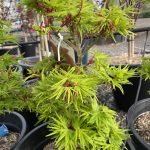 Acer palmatum – Mikawa-yatsubusa – perfect for tiny spaces that require an interesting feature tree. This specimen offers green leaves and a multi-branched structure. Leaves grow closely together producing a unique and dense leaf cover. Autumn tones are a feature of vibrant golden, orange, red and bronze.
Height: 1.8m
Width: 1.5m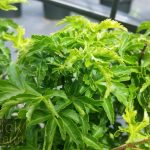 Acer palmatum dissectum – Shishigashira / Lionshead Maple – A great feature tree for small gardens, also looks nice planted with other maples, rockeries, containers, courtyards, bonsai & general garden planting. The dark green leaves are borne densely along the branches & have a curled margin. The foliage turns golden-orange to red in the autumn.
Height: 2-3m
Width: 1.5-2m
Striking Autumn foliage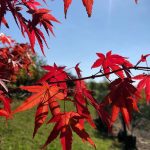 Acer palmatum – Osakazuki – Known as one of the best autumn colour varieties within the Japanese maples. It has a broad vase shaped growth habit usually multi-stemmed. A good selection in small to large gardens and landscapes where contrast colour is required. One of the more hardy varieties of Japanese maples and can handle the sun more than most.
Height: 5m
Width: 4m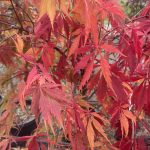 Acer palmatum – Elegans – are a smaller growing specimen with dark green leaves that turn to a stunning bright golden-orange and red.
Height: 4m
Width: 3m
redhubvideos.net the best of rose.
rylie rebel trying on panties. tikhub.pro