Latest Stock List – View Here
Our Pricing system
At Blerick our prices are based on pot size.
The indicative price and heights provided are true for most stock, but is provided as a guide only, and may vary between species.
For a specific description of the size of the plant and our current stock levels please contact us.
14cm / 6 inch pot
$8.50 – $15.50
Height entirely dependant on variety
20cm / 8 inch pot
$20.00 – $40.00
Trees approximately 30 – 60cm

Shrubs approximately 30 – 50cm

25cm / 10 inch pot
$35 – $60
Trees approximately 0.5 – 1.5m

Shrubs approximately 0.6 – 1.0m

33cm / 12 inch pot
$80 – $150
Trees approximately 1.5 – 2.0m

Shrubs approximately 1.0 – 1.5m

40cm pot / 45L bag
$230 – $250
Trees approximately 1.8 – 3.5m

Shrubs approximately 1.5m+

50cm pot / 75L bag
$330 – $350
Trees approximately 3.5 – 4.0m
100L Bag and Field Grown
$450
Trees approximately 4.0 – 5.0m
150L bag
$550
Trees approximately 4.0 – 5.0m+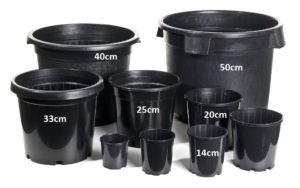 *standard prices of most stock, however some varieties may vary.
---
If you don't see what you are after, allow us to try and source your plant for you from our extensive network of other growers.
Bare Rooted Plants
From Mid June until end of August, you can purchase bare rooted plants while the trees are dormant. These are dug fresh from the soil and heeled into sawdust to keep the roots moist over winter. Bare rooted plants must be planted before they start actively growing in Spring.
View our new website bareroottrees.com.au to see all the varieties that are available every year, orders taken 12 months a year.
Super Advanced Trees in Root Control Bags (RCB) (available winter only)
These trees range between 3 to 5 metres in height, with a lovely thick calliper at the base of the trunk. They have excellent branch structure and are ideal for anyone who seeking to make an instant statement on their landscape. They are grown in root control bags which ensures a healthy fibrous root zone and minimises root disturbance during harvesting.